Let's put on a show!
With these fabulous Christmas nativity costumes, your Christmas play or church program will create a moving account of the birth of Jesus Christ. Moms, dads, grandparents and church members will enjoy seeing the children take part in the greatest story ever told.
Why would you buy a nativity costume? You can make your own costumes, but many people do not sew, nor do they have the time to make a costume. And if you're also in charge of putting together the play – casting the Bible characters, writing scripts, and designing backgrounds and props – you have even less time to make costumes. There are certainly a lot of roles to fill, and having Christmas play costumes on hand relieves a lot of stress.
Imagine how a nativity play at your Christmas candlelight service or afternoon church service will bless those who see it this joyous season. Virgin Mary and Joseph, the sweet Baby Jesus, the Wise Men, shepherds, angels and even the nativity animals in the stable bring the story to life. A Christmas play allows many children to take part as shepherds, wise men and angels. Putting on a show with Christmas nativity costumes is a grand way to include the congregation in a timeless tradition.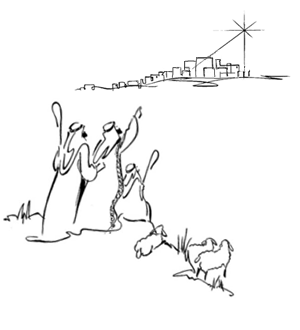 "So Joseph went up from Galilee, from the town of Nazareth, to Judaea, to David's town of Bethlehem, because he was of the house and lineage of David, to have himself registered together with Mary, who was betrothed to him and was with child.

"But while they were there, her full time came, and she gave birth to her first-born son, and wrapped Him round, and laid Him in a manger, because there was no room for them in the inn."

"Now there were shepherds in the same part of the country, keeping watch over their sheep by night in the open fields, when suddenly an angel of the Lord stood by them, and the glory of the Lord shone round them; and they were filled with terror. But the angel said to them, 'Put away all fear; for I am bringing you good news of great joy — joy for all the People. For a Saviour who is the Anointed Lord is born to you to-day, in the town of David. And this is the token for you: you will find a babe wrapped in swaddling clothes and lying in a manger.'

"And immediately there was with the angel a multitude of the army of Heaven praising God and saying, 'Glory be to God in the highest Heavens, And on earth peace among men who please Him!'

"Then, as soon as the angels had left them and returned to Heaven, the shepherds said to one another, 'Let us now go over as far as Bethlehem and see this that has happened, which the Lord has made known to us.' So they made haste and came and found Mary and Joseph, with the babe lying in the manger."

Luke 2:4-20
Weymouth New Testament Bible (public domain)