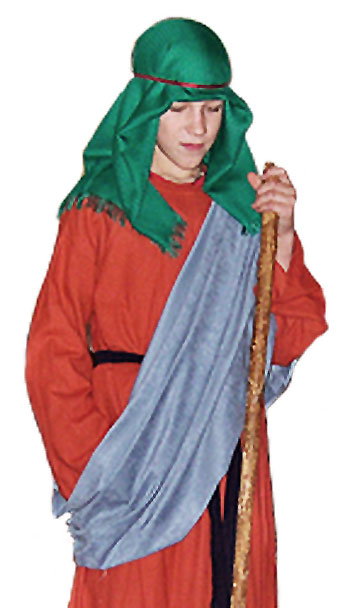 Joseph, Father of Jesus
Joseph, a carpenter by trade, was chosen to be the earthly father of Jesus.
He is most often depicted in a robe with headpiece. He's one of the three main figures of the Holy Family, along with the Virgin Mary and the Holy Babe. These are versatile costumes for children and for men.
photo credit: Christmas Play by dani0010, on Flickr.
---
Joseph Costume for Children
There really isn't a lot of distinction between a Joseph costume and a shepherd costume, although the shepherds' clothing would be more rustic. There's a tunic and a robe, a rope belt, and a headpiece. Just about any muted color in tan, brown, blue or red will suffice.
Joseph Costume for Men
These are of the same designs as the costumes for a boy, but in men's sizes. Men often play this part for a church service, as Joseph was a bit older than Mary. Accessorize with a long brown wig & brown sandals. With Mary and the Baby Jesus, these three create the Holy Family in the stable.
Shepherd's Crook
Joseph certainly used a crook to navigate the rocky hills and roads. Get one to complete your Joseph costume. This brown shepherds crook is 68″ long. It comes in four pieces that are easily assembled. You can even leave off a piece to make it smaller for a child to carry.

"The circumstances of the birth of Jesus Christ were these. After his mother Mary was betrothed to Joseph, before they were united in marriage, she was found to be with child through the Holy Spirit.
"But Joseph her husband, being a kind-hearted man and unwilling publicly to disgrace her, had determined to release her privately from the betrothal. But while he was contemplating this step, an angel of the Lord appeared to him in a dream and said, 'Joseph, son of David, do not be afraid to bring home your wife Mary, for she is with child through the Holy Spirit. She will give birth to a Son, and you are to call His name JESUS for He it is who will save His People from their sins.'
"All this took place in fulfillment of what the Lord had spoken through the Prophet, 'Mark! The maiden will be with child and will give birth to a son, and they will call His name Immanuel' –a word which signifies 'God with us'.
"When Joseph awoke, he did as the angel of the Lord had commanded, and brought home his wife, but did not live with her until she had given birth to a son. The child's name he called JESUS."
Matthew 1:18-25
Weymouth New Testament Bible (public domain)