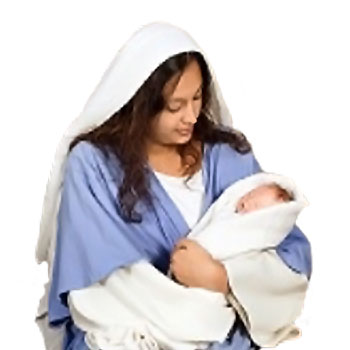 Virgin Mary, the Mother of Jesus
To portray Mary, you need a special costume, one that will radiate the gentle courage and beauty of the mother of Jesus.
Mary is often depicted in a lovely blue robe with a white headpiece. She's one of the three main figures of the Holy Family, along with Joseph and the Holy Babe. These costumes are perfect for your Nativity scene or church play. There's a Virgin Mary costume for children and for adult women.
---
Virgin Mary Costume for Girls
Bring to life Mary, the virgin mother of Jesus, in your church play. It's an easy costume because it basically consists of a dress and cloth headpiece. You don't need to spend a lot of time selecting a costume for her, as tradition calls for a blue and white color palette. Simply add sandals and a plush Baby Jesus doll and your Mary costume is complete.
Virgin Mary Costume for Women
These are of the same designs as the costumes for a girl, but these are for adults. Women often play the part of Mary for a church service, using their own baby swaddled in a blanket to play the Baby Jesus. Accessorize with a long brown wig & brown sandals. With Joseph next to her, Mary and the Babe create the Holy Family in the stable for a more meaningful and realistic telling of the Christmas Story of the birth of Jesus.

"Now in the sixth month the angel Gabriel was sent from God to a town in Galilee called Nazareth, to a maiden betrothed to a man of the name of Joseph, a descendant of David. The maiden's name was Mary.
"So Gabriel went into the house and said to her, 'Joy be to you, favoured one! the Lord is with you.'
"She was greatly agitated at his words, and wondered what such a greeting meant. But the angel said, 'Do not be frightened, Mary, for you have found favour with God. You will conceive in your womb and bear a son; and you are to call His name JESUS.' "
Luke 1:26-31
Weymouth New Testament Bible (public domain)