Free Christmas Play Scripts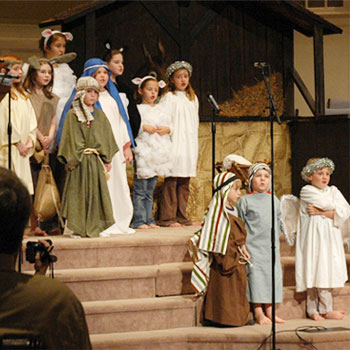 Free Christmas Play Scripts
Many people graciously offer free Christmas Play scripts. Look over each web site to find the free Christmas script that's right for your church or Sunday School.
photo credit: The Last Noel – First Baptist Birmingham by Scott Schram, on Flickr.
Free Christmas Scripts

There are lots of free Christmas skits on this site. They're fun, original Christmas plays for children and teens about the true meaning of Christmas. You'll also find a Narrated Nativity for Preschoolers — no lines to learn! Suggestions for costumes, props, sound and lighting are included with all skits.

This is a free Christmas Pageant with lots of helpful suggestions for producing it. It was created so that a lot of children have lines, and so that the children can be seen by parents and grandparents in the audience. You'll enjoy seeing photos of children in their costumes.

"Christmas Hope" is a free Christmas play for children. It's a moving story of Mom relating to her two teens why Christmas is so important. There are also parts for Mary, Joseph and others that are part of the Christmas story.

"The Nativity" is a free, one-act Christmas play for all ages. Told through the narration of Matthew and Luke, this short play also includes parts for Storyteller, Narrator, Gabriel, Mary, Elizabeth, Joseph, and others. Storyteller and Narrator were created to reduce the workload for Luke; this also provides the option for larger female parts if desired.